6 August 2020 — Medact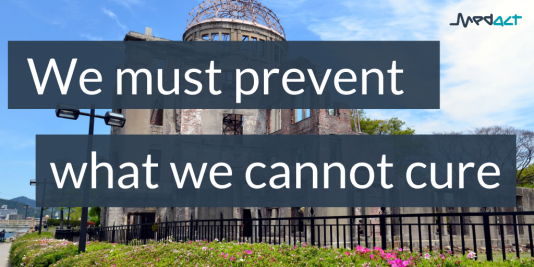 Today ─ 6th August ─ marks the 75th anniversary of the nuclear bombing of the city of Hiroshima, in 1945. It is estimated that the attacks on Hiroshima and Nagasaki and the ensuing radioactive fallout claimed the lives of up to a quarter of a million Japanese people ─ to this day they provide a stark symbol of the toxic legacy of conflict.

No humanitarian response would or will ever be effective in the wake of such a devastating event. And so, as medical campaigners for the abolition of nuclear weapons have always said, "we must prevent what we cannot cure".
In 1945, in the wake of Hiroshima and Nagasaki, people emerged from the shadow of the war demanding radical societal change for a safer world. In the UK, the birth of our National Health Service marked a huge advance in investment in people's health and well-being ─ while the development of welfare states across the world provided people with a more genuine form of security. Mass movements sprung up to campaign for peace and nuclear disarmament .

So too, 75 years on, we again find ourselves at a crossroad. This year, we have seen humanitarian catastrophes of a scale that has once again pushed health and emergency services to the brink. Now, as the health community finds itself in the spotlight, we must use this moment to push for transformative changes.
Thank you for all that you do,

Medact