15 August 2020 — Medact
First of all, I just wanted to say a huge thank you to all who have contributed to building our new Economic Justice & Health Group so far this year. This is such a critical area to be organising in right now. This month it has been fantastic to see our Economic Justice research group carry forward its work with some admirable examples of scholarship and collaboration, and making great progress on this project.
As many of you know, housing is one key economic determinant of health. Right now, falling incomes across the UK are leading to huge increases in housing insecurity, seriously undermining the health prospects of those affected. The planned end of the eviction ban in England this month risks causing an eviction crisis that will be seriously for public health, including by potentially exacerbating a second wave of COVID-19.
That's why we hope you will join us this coming Wednesday for our Action Call on the eviction crisis in the time of COVID-19: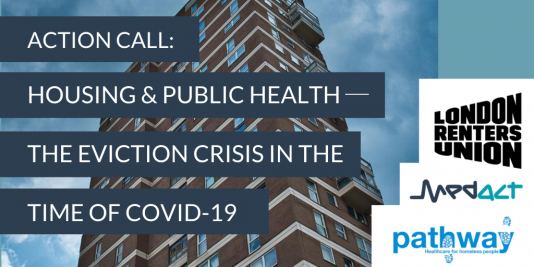 We are really lucky to be joined for the event by:
Dr Zana Khan, GP from Pathway;
Daniel Carter, epidemiologist from the London School of Hygiene & Tropical Medicine;
and Jacob Wills & Rebecca White from the London Renters Union
We will cover the impact of evictions & housing insecurity on public health and learn what health workers can do to help people experiencing housing insecurity.
It would be great to have you join us,
Siddhartha
p.s. you can also help us promote the event by using this template tweet