8th February 2021 — True Publica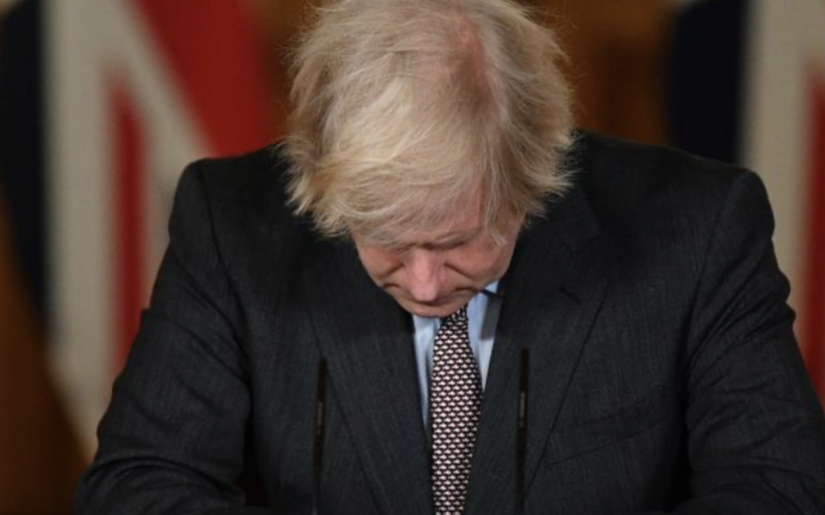 TruePublica published an article in March last year, excerpts of which are below (HERE) regarding Britain's preparedness plans in the event of a pandemic, which every responsible government in the world will have. The results showed how the Conservative government tested the NHS for a flu-like pandemic, such as Covid 19, over a three-day period in 2016 and then not only ignored its ominous warnings but buried the final report as investing in the NHS did not fit its privatisation agenda ambitions.
It should be noted that the government had been threatened with legal action over demands to publish the results of the study as late as October 2020 (source). A version of the report, classified as "Official – Sensitive" was leaked in the same month – but still, the full report remained part of a legal action case. The full report was finally released in late October 2020. It led to a number of questions as to why the government failed to follow its recommendations and was the document released the full original version. TruePublica wrote:
In October 2016 the UK government ran a national pandemic flu exercise. It was codenamed Exercise Cygnus. The report of its findings was not made publicly available, as part of the general antipathy towards the NHS by the Conservative party. The then chief medical officer Sally Davies commented on what she had learnt from it in December 2016. The public will now pay with their lives for deliberate government inaction and total disregard towards their primary function – to protect us all.

You can read the – "Emergency Preparedness, Resilience and Response (EPRR)" document HERE – "that participated in Exercise Cygnus, a three-day exercise looking at the impact of a pandemic influenza outbreak, and the significant impacts on health delivery a widespread pandemic in the UK would trigger."

"We've just had in the UK a three-day exercise on flu, on a pandemic that killed a lot of people," Sally Davis told the World Innovation Summit for Health at the time. "It became clear that we could not cope with the excess bodies," she ominously warned. One very predictive conclusion was that Britain, as Davies rightly said, faced the real threat of totally "inadequate ventilation" in a future pandemic. Davis was, of course, referring to the need for ventilation machines, which keep oxygen pumping in patients critically ill with a respiratory disease such as coronavirus.
In that same article, TruePublica went on to explain, seven months before the mainstream media that -"Despite the severe failings exposed by Exercise Cygnus, the government's planning for a future pandemic did not change after December 2016. The government's roadmap for how to respond to a coronavirus-like pandemic has long been available online, and the three key documents – the 70-page "Influenza Pandemic Preparedness Strategy", 78-page "Health and Social Care Influenza Pandemic Preparedness and Response" and 88-page "Pandemic Influenza Response Plan" – were published in 2011, 2012 and 2014 respectively.  What is striking about this exercise and subsequently published plans was that these plans were properly tested and then emphatically failed, yet these documents were not rewritten or revised and provided no new preparedness recommendations towards what would happen in the event of a virus outbreak, which was expected in due course. That was except for one thing – [the report highlighted] that the health services would not be able to cope."
We also reported that – "The result is that the government has no stockpile of ventilators at all. All three of the plans refer to stockpiles, but only of antivirals, antibiotics and personal protective equipment for NHS staff. As for the latter, many NHS frontline staff from ambulance crews, to porters and medics are already complaining they have run out and face being 'cannon fodder' in these warlike hospital circumstances that Matt Hancock now realises will become a reality."
As we now know – Matt Hancock's pleas for private industry to manufacture ventilators and acquire PPE came six weeks after the first Covid cases were reported in Britain and two months after an epidemic was called in China.
As the 2011 preparedness strategy puts it, "Critical care services are likely to see increases in demand during even a mild influenza pandemic. In a moderate or severe influenza pandemic demand may outstrip supply, even when capacity is maximised… it may become necessary to make decisions concerning the priority of access to some services." It was known back in 2016 that many people would die as a direct result of not preparing for a flu-like pandemic that scientists had warned was inevitable.
And yet, the government failed to heed any of the warnings, the strategy or plans put forward. In this, the government has failed in its primary duty – to ensure citizens are safe.
It was also subsequently learned that Downing Street officials did not prepare adequately and that their Covid planning efforts to be quite literally non-existent. Even with pre-existing pandemic plans, an official is quoted as saying they, "never went into the operational detail".
Even The Telegraph raised doubts as to whether the full implementation of improvements were conducted before Covid -19, as previously reassured by the government. From there, areas of failure were identified. Key complaints include – improper management of surge capacity, incomplete "silo planning between and within organisations", disorganised school closures, consistent lack of funding for care homes, inefficient public communication and lack of social distancing which were still unresolved during Covid -19.
The Test and Trace programme was a failure, cost huge amounts of public money and has cost lives. Dido Harding, the controversial government pick to head up this programme yesterday said: "about 20,000 people a day are not self-isolating when told to by contact tracing system". It's an easy thing to say, and the public is easily blamed. It's a claim that cannot be refuted with evidence, as no-one else has the data. Harding was not asked for it.
The overall result to this catastrophic failure to take expert warnings and advice is that the government has overseen the worst public health and economic crisis possible. No other modern developed western country can boast a top-three slot for both the worlds worst death rate and economic downturn.
Theresa May was fired because she couldn't negotiate an acceptable Brexit deal. David Cameron was fired for losing a referendum on EU membership. Margaret Thatcher was fired over internal political battles about  European membership. But Boris Johnson has failed at the Covid public health crisis that has needlessly killed tens of thousands, failed at the economic outcome of it and failed at delivering a Brexit that was promised – the consequences of which, are unravelling before our eyes.