17 June 2020 — The National Security Archive
Declassified Records Describe U.S. and South Korean Shifting Views of the North
Kim Young Sam: "I would not trust North Korea despite an agreement"
Kim Dae Jung: "If they don't change, they simply have no future"
Albright went from seeing Kim Jong Il as "strange, moody and hypersensitive" to "practical, pragmatic, decisive, and non-ideological"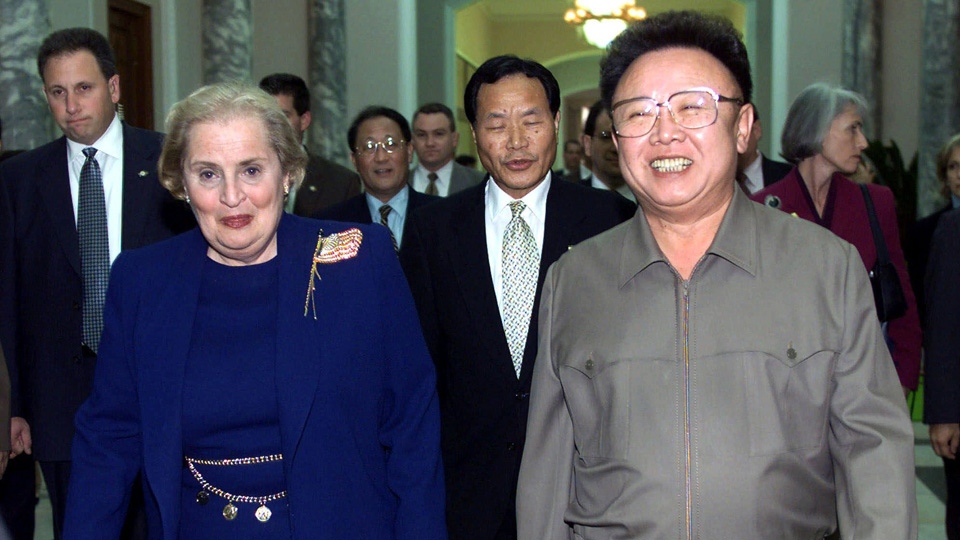 Washington, D.C., June 18, 2020 – American and South Korean assessments of North Korean dictator Kim Jong Il shifted during the course of negotiations in the 1990s over the North's controversial nuclear program, according to recently declassified documents obtained under the Freedom of Information Act and posted today by the nongovernmental National Security Archive at The George Washington University. Successive South Korean leaders agreed on the grave danger that would be posed if Pyongyang violated nuclear agreements but emphasized differing perspectives, from deep distrust to a more confident sense that Seoul had the advantage of time.
On the American side, the documents show Secretary of State Madeleine Albright expressing a very different understanding of the North Korean leader after meeting with him in October 2000. No longer seeing him as "strange, moody, and hypersensitive," she took the cautiously optimistic view that he may actually be more "practical, pragmatic, decisive, and non-ideological" than the U.S. had realized.
Today's posting builds on a series of earlier National Security Archive E-books, most recently this collection from December 2017 on engaging North Korea. Together, the materials provide detailed insights into Pyongyang's motivations, intentions, and negotiating styles, how Washington and Seoul perceived the threats from the North as well as the opportunities arising from the Agreed Framework, and the myriad issues that encumbered the negotiating process.
Among the challenges Clinton administration officials faced along the way were determining whether Pyongyang had violated the agreement by building an underground nuclear facility; mitigating Kim Young Sam's "neuralgia toward Japan" which hindered attempts at a tripartite approach to the issue; and working to avert a Russian offer of light water reactors to North Korea.
THE NATIONAL SECURITY ARCHIVE is an independent non-governmental research institute and library located at The George Washington University in Washington, D.C. The Archive collects and publishes declassified documents acquired through the Freedom of Information Act (FOIA). A tax-exempt public charity, the Archive receives no U.S. government funding; its budget is supported by publication royalties and donations from foundations and individuals.