11 November 2017 — The Canary
On Thursday 9 November the government quietly released the latest housing statistics for 2015/16. And buried in a spreadsheet is a single graph that shows how the so-called 'Bedroom Tax' has been a complete failure.
A million spare bedrooms?
In 2014, then Work and Pensions Secretary Iain Duncan Smith spoke about what he called "the removal of spare room subsidy" but critics dubbed 'the Bedroom Tax'. He claimed that UK social housing had "a million spare bedrooms". And that for the taxpayer to pay for these via housing benefit was:
effectively a spare room subsidy. Britain can not afford it and nor can the taxpayer… But more fundamentally it will help us get a better grip of our social housing stock.
Duncan Smith sold the Bedroom Tax as being a way, in part, of helping the "two million families… squeezed into miserably overcrowded accommodation and having to sit on housing waiting lists in the hope of obtaining a home". But five years on, this hasn't happened.
An epic failure
This is because the latest figures [xcl, fig 1.11] from the Department for Communities and Local Government (DCLG) show that the under-occupation rate in social housing was 10% in 2015/16; exactly the same as it was in 2010/11, before the Bedroom Tax came in and when the Tories first came to power: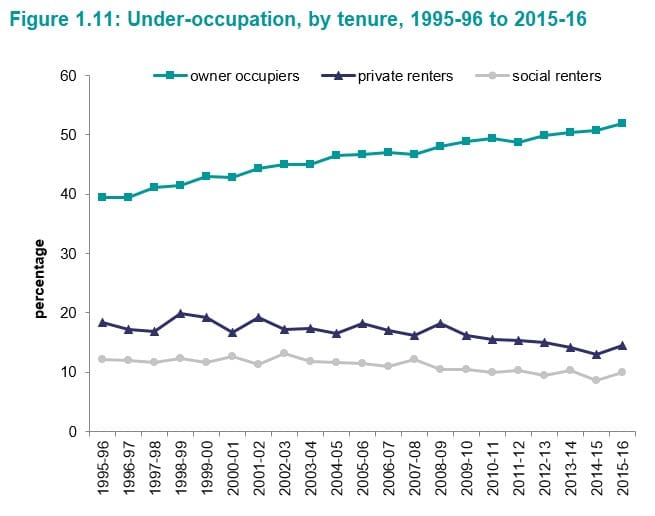 And it's not just the percentage of social housing that's classed as under-occupied which hasn't fallen. Because the physical number [xcl, fig AT1.21] of under-occupied properties has actually gone up since 2010/11 – from 383,000 then, to 390,000 in 2015/16.
In other words, the Bedroom Tax has not freed up any additional social housing. In fact, more under-occupation has occurred. And this simple fact, when compared to the government's original targets, shows what a failure the policy has been.
Money for nothing
As The Guardian reported, the government wanted the Bedroom Tax to:
free up housing to help 300,000 people living in overcrowded accommodation… [and] 30% of social housing tenants affected by the changes [Bedroom Tax] to move home by 2017.
But in reality, only 8% of people hit by the Bedroom Tax have ended up moving property.
As The Canary noted in July 2016:
The Bedroom Tax is the political equivalent of overturning a sofa while a family is sitting on it and breaking arms and legs in the process, for the sake of finding a quid under one of the cushions.
The Bedroom Tax: cruel and callous
It is worth remembering what the Bedroom Tax did achieve though.
It threw 64% of tenants into rent arrears, caused [pdf, p62] 76% to cut back on food, 75% to cut back on clothing, 46% to cut back on heating and 33% to cut back on travel. All while around two-thirds of those subject to it had a registered disability. If there was ever a metaphor for a cruel and callous government, the Bedroom Tax would be it.
Source: https://www.thecanary.co/uk/2017/11/10/just-one-graph-government-quietly-revealed-bedroom-tax-utter-failure-images/