10 May 2019 — True Publica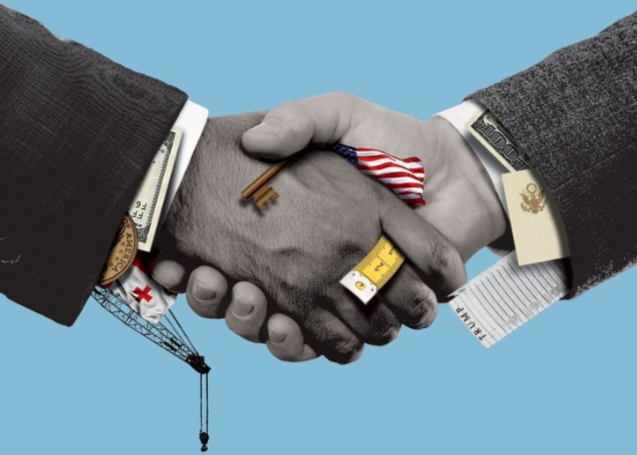 TruePublica Editor: We have consistently said since the EU referendum result that Brexit will begin a new era of deregulation as American style neoliberal capitalism goes for its last hurrah, the result being that disaster capitalism will dominate for another generation. Campaigners for Brexit rode on a ticket of immigration, 'taking back control' from 'unelected bureaucrats' and an unbridled new economic horizon will emerge where the sun does not set. This is the sixth report in a series from the UK Parliament's Constitution Committee does not reflect this view in the slightest –  which has additionally slammed the government's secretive trade deal negotiations as nothing more than "anti-democratic." The language used by expert witnesses in these reports speak for themselves; "seriously inadequate, undemocratic, not fit for purpose, outdated, inadequate for major international agreements and so on.

Campaigners' reaction to Constitution Committee report
Parliamentary processes on scrutiny of trade deals have today been branded as "anachronistic and inadequate" in a report released by the UK parliament's Constitution Committee.[1]
The report on "Parliamentary Scrutiny of Treaties" is the sixth in a series of reports by parliamentary committees that have strongly criticised current parliamentary processes for agreeing trade deals.[2]
James Angel, trade campaigner at Global Justice Now, said:
"From Parliamentary committees to business groups, senior academics to politicians across Parties, there is clear consensus that current processes for agreeing trade deals are seriously inadequate. The trade deals currently being pursued by the government risk extending privatisation within the NHS, undermining food safety standards and blocking action on climate change. Why, then, are MPs currently given no guaranteed say on these deals? And why are the public repeatedly left in the dark about their content? Without a guaranteed vote for MPs, trade deal scrutiny processes will remain anachronistic, not to mention anti-democratic."
Jean Blaylock, trade campaigner at War on Want, said:
"The Brexit debate shows how vital it is to have a robust effective system for democratic accountability over treaties, such as trade deals with countries like the US. These deals can override domestic law on everything from food safety to workers rights, creating a deregulated free for all and opening up public services like the NHS to further corporate profit. We welcome the committee's assessment that current procedures are not fit for purpose. MPs should be guaranteed a vote on trade deals, just as their counterparts in the US and EU have."
David Lawrence, senior political adviser at the Trade Justice Movement, said:
"In its latest report, the Constitution Committee becomes the fifth Parliamentary committee to strongly criticise the current processes for agreeing trade deals. The current processes are fundamentally undemocratic: Parliament has no guaranteed say on trade deals, and the government is not required to be transparent before or during trade negotiations. Trade deals can affect huge swathes of public policy: from public services and intellectual property to food standards and the environment. As the UK entertains the idea of an independent trade policy after Brexit, it is essential that Parliament is fully involved at each stage of the process."
Background
The Constitution Committee report stresses that "It is… imperative that Parliament scrutinises the Government's treaty actions—through the mandate, negotiation and ratification phases—that precede implementing legislation" (p.2). In addition, the report argues that there should be a general principle "in favour of transparency during treaty negotiations" (p.40) and that mechanisms for agreeing trade deals must "ensure that devolved competences are respected" (p.38).
The report, however, finds that this level of scrutiny is currently absent. Under existing rules, "No systematic scrutiny of treaties currently takes place prior to signature." (p.2) And, after treaties have been signed, the House of Commons can only "delay" their ratification—and only if the Government chooses to make time for it to do so (p.2).
Expert witnesses who gave evidence to the report described the current system as "not sufficient", "not fit for purpose", "ineffective", "outdated", "unsatisfactory", "inadequate for major international agreements", and not providing a "constructive balance between Parliament and government." (p.9)
The government was recently defeated in the House of Lords on an amendment to the Trade Bill that would give Parliament a meaningful vote on future trade deals. Amendment 12 (now New Clause 7) was jointly tabled by Labour, Lib Dem and crossbench peers. [3]
Trade justice campaigners welcomed the introduction of stronger scrutiny and accountability powers, and now argue that the Constitution Committee's report further consolidates the case for the new amendment. The amended Trade Bill is due to return to the House of Commons soon.
Notes
[1] The Constitution Committee is a cross-party select committee of the House of Lords. The Committee's remit is "to examine the constitutional implications of all public bills coming before the House; and to keep under review the operation of the constitution". The report, Parliamentary scrutiny of treaties is athttps://publications.parliament.uk/pa/ld201719/ldselect/ldconst/345/345.pdf
[2] Previous Parliamentary reports criticising Parliamentary processes for agreeing trade deals:
[3] Government defeated in Lords over meaningful vote on future trade deals