6 July 2019 — Corporate Watch
First, some good news. At the end of last year we revealed the huge amounts pathology company The Doctors Laboratory (TDL) was paying to its directors and shareholders – while denying couriers the better pay they were demanding. Since then, six months of campaigning and threats of strike action by the couriers and their union, the IWGB, has persuaded TDL to sign a historic pay deal. In the words of the IWGB: "The deal proves it is possible for so-called "gig economy" workers to secure hourly pay and improved conditions through campaigns and strikes."
Click here to read more on the deal. The IWGB used our investigation in their campaign and negotiations with the company. It was also quoted extensively in press reports on the dispute (for example in the Guardian and the Daily Mail).
Border Regime
Last week Corporate Watch published three new reports updating our work on the UK Border Regime and the corporations that profit from the "hostile environment" of immigration controls.
Life in Calais 3 years after the Jungle eviction: an interview with Calais Migrant Solidarity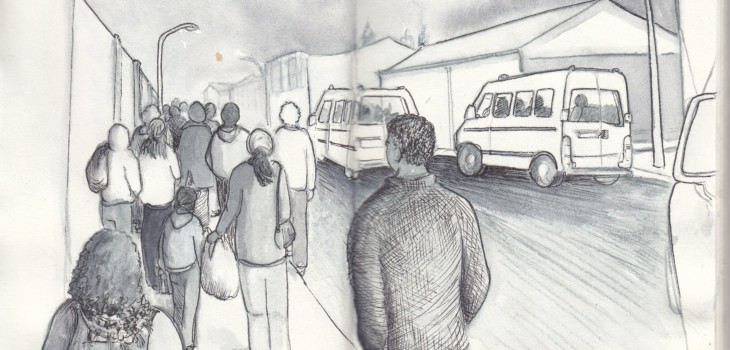 Read here: https://corporatewatch.org/calais-after-the-jungle-an-interview-with-calais-migrant-solidarity-june-2019/
In 2016, the northern French port town of Calais was all over the TV screens, as an army of Gendarmes and CRS riot police evicted the "Jungle" refugee camp.
But Calais' refugee story goes back much further, and it's not over yet. Hundreds of refugees are still gathered around the main channel crossing point, living in even more miserable and precarious conditions now the big jungle is gone. To get a snapshot of the current situation we talked to friends from Calais Migrant Solidarity, a network that has been active alongside migrants in Calais since 2009.
Calais border profiteers update
Read here: https://corporatewatch.org/calais-border-profiteers-update-june-2019/
Calais' mayor has being trying to rebrand the town as a "city of flowers". But "city of barbed wire" would be more apt. From the port to the tunnel at Coquelles, the town's periphery is now a nightmarish landscape of razorwire fences, cameras and motion detectors, earthworks, trenches and flooded fields.
All this means money for the construction and security companies who supply the border infrastructure. Back in 2016 the Calais Research Project started to investigate firms involved in the border business. Here an update on new developments including: a new French-British police command centre and drone base; expanding the Coquelles detention centre; and privatising new security checks on coaches.
Immigration raids: how direct action got UK's ICE squads on the run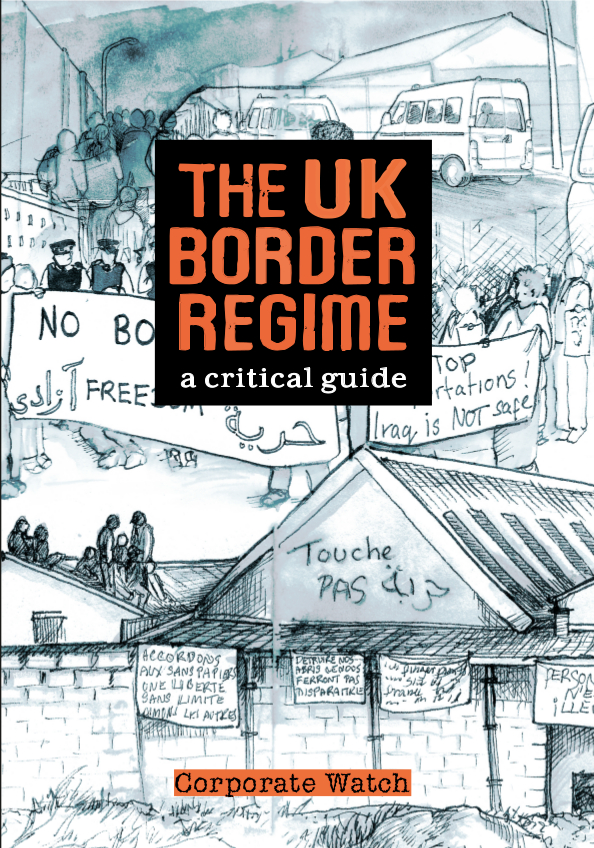 Read here: https://corporatewatch.org/immigration-raids-how-direct-action-got-uks-ice-squads-on-the-run/
On the British side of the channel, meanwhile, immigration raids on people's workplaces are one of the UK government's main terror tactics against migrants. But in the last few years, they have also become one of the main battlegrounds where people are fighting back against the "hostile environment".
Chapter Six of our book on the UK Border Regime gave a detailed overview of how these raids work. This update looks at a recent report from the Independent Chief Inspector of Borders and Immigration (ICIBI). This suggests the Home Office squads' approach has changed little despite the Windrush scandal. But what has changed is the level of resistance the raiders have been facing, meeting increasing incidents of "disruption" in angry neighbourhoods through London and beyond. And this has had a real impact on ICE teams' confidence and tactics.
NB: if you haven't already, check out our comprehensive book on The UK Border Regime published last October. You can order it, or download for free, here: https://corporatewatch.org/product/the-uk-border-regime
Summer School
All the free places have been snapped up but there are still a small number of paid places left at our Investigating Companies, Challenging Corporate Power Summer School. The booking link is: https://payments.liv.ac.uk/conferences-and-events/events-at-liverpool/school-of-law-and-social-justice/2019-investigating-companies-challenging-corporate-power
And thanks to everyone who shared it!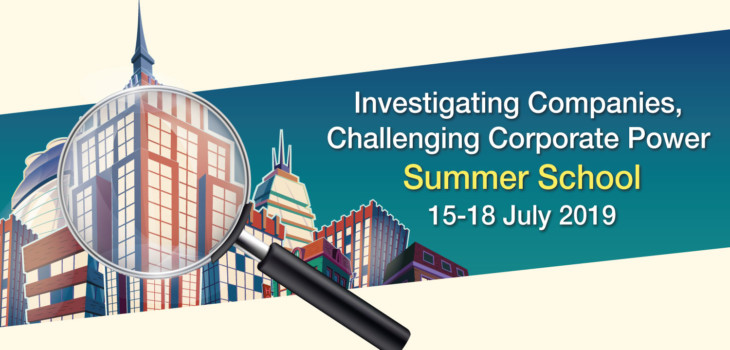 More News
The Priory Group: 'morally bankrupt' company makes millions for owners while young people die in its care
Back in April, Priory Healthcare was fined £300,000 after 14 year-old Amy El-Keria died in one of its hospitals. Priory's prosecution for health and safety violations was the first of its kind, and the result of years of campaigning by Amy's family.
But will Priory take any notice? Our investigation into the group's finances over the last ten years suggests the fine will hardly make a dent in the huge profits and payouts its owners and bosses enjoy. £300,000 is less than two days' profit for Priory Group — and less than the £458,000 'golden goodbye' it paid its boss when he left the company the same year Amy died. Read the full report here: https://corporatewatch.org/the-priory-group-morally-bankrupt-company-makes-millions-for-owners-while-young-people-die-in-its-care/
Private water companies: another round of bumper payouts for bosses
The latest accounts of England's nine water and sewerage companies show their highest paid directors shared £11 million between them last year. Our research, commissioned by the GMB union and released by them earlier this month, shows water companies have paid their bosses £70 million in the last six years. See here for the full details of the bosses' pay packets: https://corporatewatch.org/water-bosses-pay-2018/
Corporate Watch c/o Freedom Press, Angel Alley, 84b Whitechapel High Street, London, E1 7QX