31 August 2019 — Medact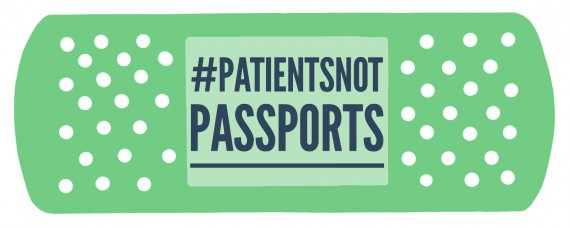 NHS Trusts have a duty to stand up for their patients, to support their staff, and to ensure that everyone can access the care they need. This is why hundreds of healthcare workers across the country are asking their Trust to join them and call on the Government to end NHS charging.
Already we've forced one Trust to stop a pilot scheme asking patients to bring 2 forms of ID to outpatient appointments, had threatening posters removed, pushed local Councils to challenge Trusts and held incredible demonstrations bringing together community groups and healthcare workers.
You can start campaigning in your Trust
It doesn't take much to start a campaign, below are a few easy steps to get you started. You can contact JamesSkinner@medact.org any time to support.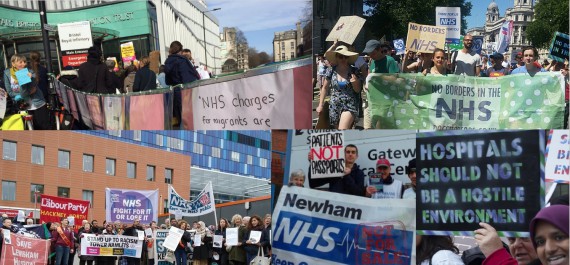 1. Find people that want to join you
You don't need to start with hundreds of people, just 3 or 4 is enough to get the campaign off the ground. Talk to your colleagues, your friends, and your union – everywhere we go people are really eager to start campaigning, they just need someone to do it with!
2. Talk to us
We're here to support you, whether its a quick chat on the phone or a whole day of action planning for your campaign. We're also building a big list of people that want to fight charging in the NHS and can connect you with other people in your area.
3. Get Inspired 
Lots of amazing work is already happening in Trusts and communities all over the UK, in Manchester, Brighton, Cambridge, Bristol, Liverpool, Birmingham and London.

Medact Bristol have been running trainings on the impact of charging on migrant access to healthcare, raising awareness and giving people the skills to advocate for patients.

A campaign group in Liverpool surveyed staff in the hospital and found that 90% were concerned about charging, showing the strength of opposition to the policy. 4 of the campaigns have launched open letters to the Chief Executive of their Trusts. Together they've gathered hundreds of signatures and brought lots of people into their campaigns.

At Homerton Hospital in East London, they've been working to get the Hackney Council to challenge the Trust about the impact of charging on their community.

At Barts, also in East London, a coalition of healthcare workers and local NHS campaigners have forced the Trust to remove all of the posters threatening charging and are building on this momentum to keep pushing for a public statement from the Board.

From challenging the Hostile Environment in the NHS, to tackling climate change and the UK's role in the global arms trade, Medact unites thousands of people who work in health to create a world in which everyone can truly achieve their human right to health. Read more…