27 April 2021 — Medact
Last night over 130 people joined our urgent briefing exploring why we all have a duty to take action and Kill The Bill.
As a movement we must demand nothing less than a complete rejection of the Police, Crime, Sentencing and Courts Bill. Our fantastic panel gave us crucial insights into the public health dangers of the Bill, outlining how the legislation:

Threatens the right to protest
Increases police powers, including expanding Stop & Search, that already discriminate against marginalised communities
Directly attacks Gypsy, Roma and Traveller communities by criminalising their way of life
Undermines the relationship between health workers and their patients by lowering the threshold to breach consent and pass patient information to the police
Expands a prison system that harms the health of people from criminalised communities
Uses the language of Public Health to justify handing the police a range of violent new powers
Now, we must take collective action. Join us on the National Day of Action this Saturday, 1st May.
Fill out this form to be connected with others who are going to protest in your local area so you can march together, and to join our Slack Workspace for health workers and help plan how to organise past this weekend.
Fill out the form to connect with other health workers at the Day of Action
For those of you who are in London, come and march with the Medact team! We hope to see many of you there, sign up to get in touch with us beforehand and we will send you details of our meeting place.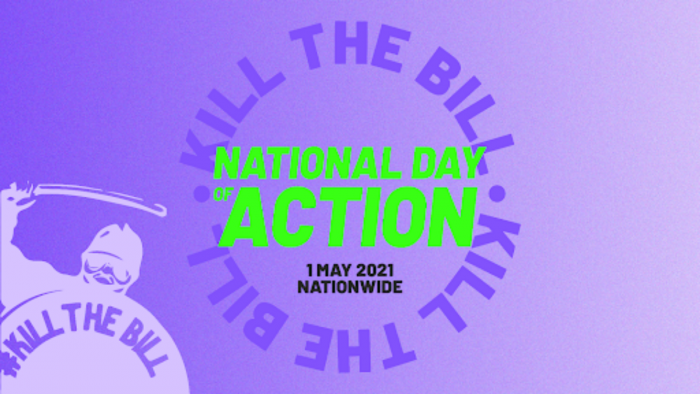 Wherever you are taking to the streets, don't forget the essential things you need to stay as safe as possible:
Bring 2 litres of water
Bring salty, sugary snacks
Wear a face covering, bring hand sanitiser
Wear comfortable and weather-appropriate clothing
Wear comfortable shoes – you may end up walking a long way
Don't come alone – march with us instead!
Tomorrow night (Wednesday 28th April) at 7pm, we are supporting the first Kill The Bill Action Medic Training, where we will learn how we can safely provide first-aid support at protests. The training is open to anyone, no previous experience or clinical training necessary. It will cover the principles of providing care at demonstrations, specific action first aid skills, holistic care including wellbeing, mental health, consent and privacy. Sign up for the training tomorrow, or to hear about the next training.
If you didn't make it to the briefing event last night, or if you want to share it with colleagues and friends, the video of the panel session is now online on our website, and the audio is available as a podcast.