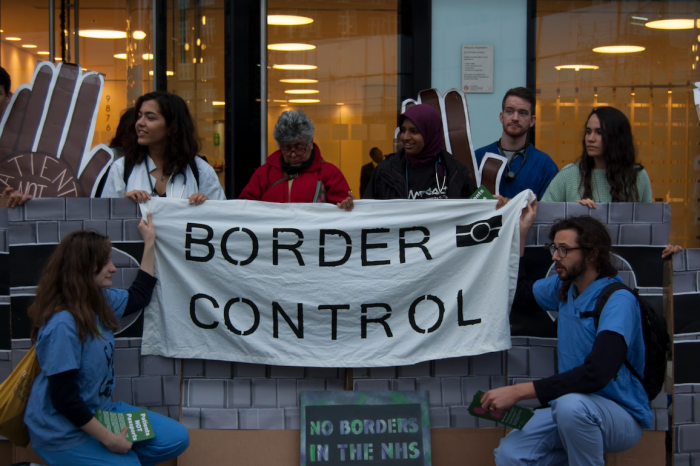 Last week, the government announced the creation of a new Home Office taskforce that will attempt to expand Hostile Environment immigration policies.

The government thinks it can continue to push its racist policies onto our communities, but up and down the country, in towns, cities, hospitals, community centres, and on the streets – we are fighting back. The Patients Not Passports campaign is organising to end migrant charging, ID checking, and data sharing in the NHS. Will you join us?
Sign up for the next PNP New Joiners Meeting on Monday 13th February at 7pm to find out how to get involved!
Led by Immigration Minister Robert Jenrick, the new Home Office taskforce that will focus on limiting migrants' access to vital public services. This will likely include restrictions on people trying to open bank accounts or drive whilst they are undocumented, escalating immigration raids on workplaces, and enforcing ID checking in schools, workplaces and hospitals.
The Hostile Environment continues to devastate hundreds of thousands of people's lives, preventing migrant and racialised communities from accessing the services they need, sowing division and mistrust, and in some instances directly leading to lifelong injury and death.
Together we are refusing to allow our healthcare service to become a tool of hostile immigration enforcement, and fighting to ensure it stays true to its founding principles: healthcare should be available to all who need it, regardless of where you're from or your ability to pay.
The best way to get up to speed with the campaign and connected with what's going on across the country is to come to our next New Joiners meeting on Monday 13th February.
In this meeting we'll explore how NHS charging works and how we can fight back, hear from some of the groups working on the Patients Not Passports campaign, and explore the different ways you can take part. To win, we need everyone working together to oppose NHS charging – you don't need to work in healthcare to be involved!
What: Patients Not Passports February New Joiners meeting
When: Monday 13th February, 7–8:30pm
Where: Online via Zoom
How to attend: Register via this link
If you can't make the meeting, don't worry! We can make time for a quick phone call with you or connect you directly with your local group – get in touch at jamesskinner@medact.org.
Solidarity,
James Skinner (he/him) –Campaign Lead: Health & Human Rights, Medact
Aliya Yule (she/her) – Access to Healthcare Lead, Migrants Organise