3 May 2019 — National Security Archive
Amicus Brief Argues for Court Review, Time Limits on Secrecy of National Security Letters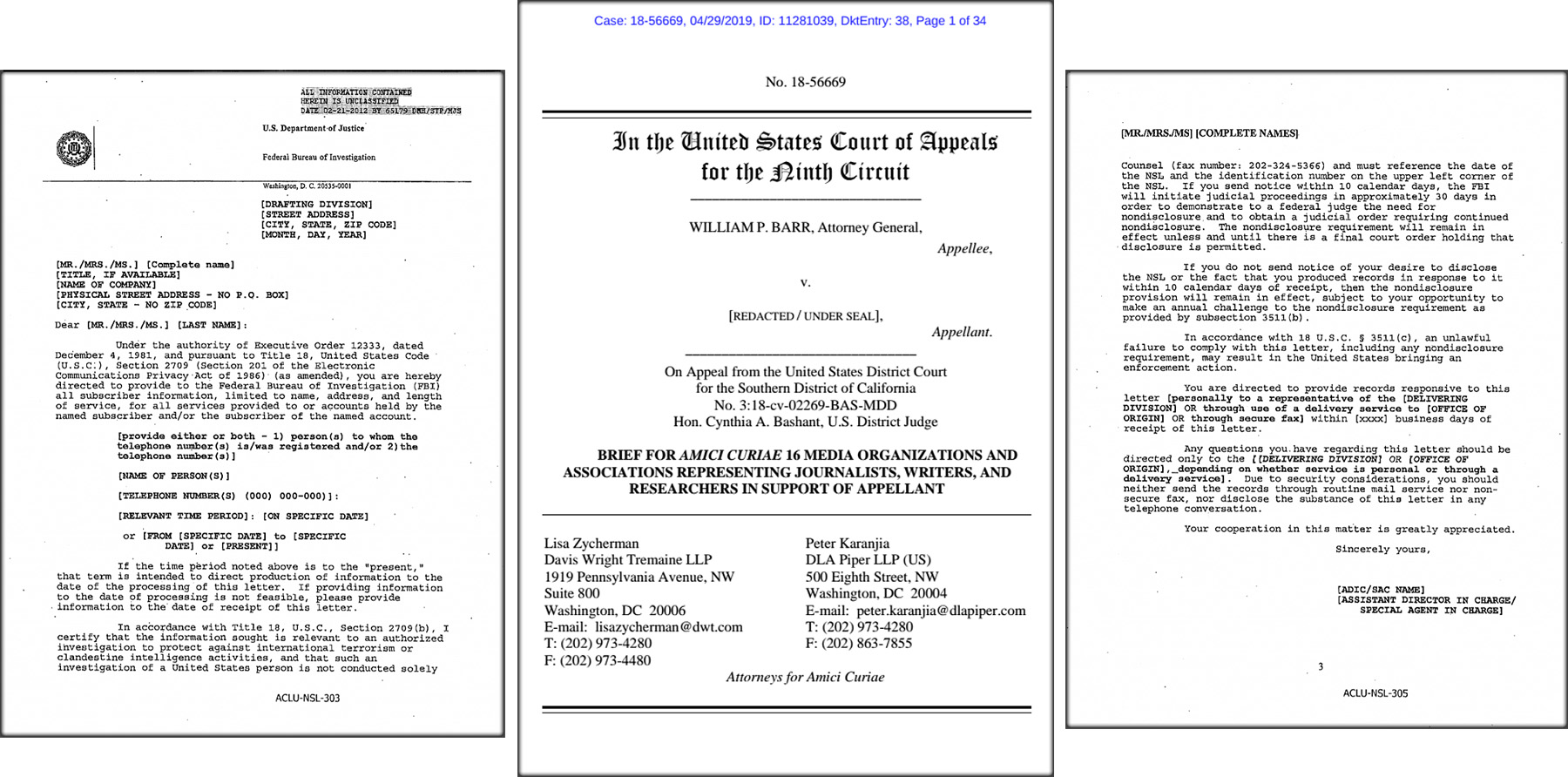 Washington D.C., May 3, 2019 – The National Security Archive, along with 15 other media organizations, filed a "friend of the court" brief on April 29 challenging the FBI's authority to issue national security letters (NSLs) without any judicial oversight and under indefinite gag orders. The letters demand business records from a wide array of organizations for national security investigations, and their accompanying gag orders prohibit the recipient from speaking with anyone about the NSL, often permanently.
The amicus brief argues courts have put time limits on secrecy before, both by ordering the government to justify the continued necessity of a nondisclosure provision on an ongoing basis and requiring a triennial judicial review for a nondisclosure provision, making Barr v. Redacted's unlimited time frame an outlier. The brief was filed with the United States Court of Appeals for the Second Circuit, which is reviewing a lower court decision that held that the FBI's Termination Procedures are a "potential backstop to protect First Amendment interests." The Archive was represented pro bono by Lisa Zycherman of Davis Wright Tremaine and Peter Karanjia of DLA Piper.
In addition to the Archive, the brief was filed on behalf of the American Society of News Editors, the Associated Press Media Editors, the Association of Alternative Newsmedia, the Associated Press, the Center for Investigative Reporting, the Center for Public Integrity, First Look Media Works, Inc., the Hearst Corporation, the McClatchy Company, the Association of Magazine Media, the New York Times, Online News Association, the Reporters Committee for Freedom of the Press, the Society of Professional Journalists, and the Washington Post.
---
THE NATIONAL SECURITY ARCHIVE is an independent non-governmental research institute and library located at The George Washington University in Washington, D.C. The Archive collects and publishes declassified documents acquired through the Freedom of Information Act (FOIA). A tax-exempt public charity, the Archive receives no U.S. government funding; its budget is supported by publication royalties and donations from foundations and individuals.