29 November 2017 — WeMove
This is a special day. For over two years a huge part of our energy was focused on one goal: stopping Monsanto from getting their hands on a 15-year licence to sell glyphosate on our European market.
And we did – but we didn't get all we wanted. Instead of a total ban on glyphosate for which we fought long and hard, on Monday the EU countries unexpectedly voted for a 5-year approval of the toxic weed-killer. [1] Glyphosate will stay on our store shelves and will keep poisoning our food – but not for much longer, if we have something to say about it!
What should we feel on a day like this? Did we win, or did we lose? Is it just another set-back and we need to be planning for the next battle? While it's sometimes hard to separate the joy from the grief, one thing is certain: the immense pride in our community, because together we managed to achieve something special.
We took the little-talked-of but deadly herbicide and we made it news that shook up the entire EU's political agenda. We disrupted the business-as-usual for the pesticide lobby, and we made the relicensing process an uphill battle where they were expecting an easy stroll. We forced Monsanto to redraft their business plans, because if they want to keep selling their weed-killer in Europe, they need to apply again – in just 2, not in 12 years.
When we first fought against glyphosate two years ago, Sweden was our only ally. Through the tireless work of our community and our coalition partners, we got to where we are today: 9 countries voted to oppose the new licence, and only a shocking last-minute flip of Germany from an abstention to a yes vote won Monsanto their approval. [2] But here's the punchline: immediately after the vote, France and Italy – two of the EU's biggest weed-killer users – promised to phase out glyphosate within 3 years! [3]
Together we spelled out the beginning of the end of glyphosate in the EU, and we put the entire pesticide-based agricultural system in question. And we've only just begun! Where do we go from here? With your support, activism and your small weekly donation, our community will be ready to keep up the fight until we see glyphosate gone – for good!
We have already charted a way forward, because our campaign was about so much more than just banning the one toxic pesticide. What the EU and its citizens badly need is a reform of how pesticides get approved for our market. Already next week we will meet the European Commission and continue putting pressure on decision-makers to make sure independent science, and not lobby interests, are the basis of any decision.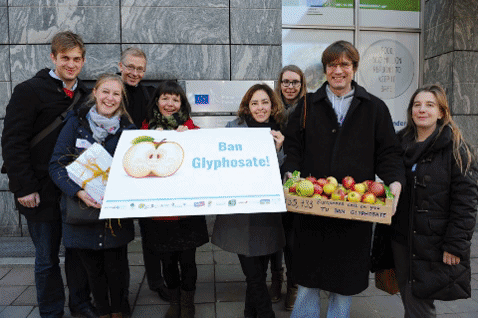 There's so much more to do, but every success is also a chance to take a breath, look back and appreciate how we got here. And none of it would have been possible without our alliance of fantastic partner organisations from all over Europe [4], without the mobilisation and dedication of our amazing community members – and the truly powerful movement for a pesticide-free future we have built together. Every step of the way, every action, from signing the petition to taking part in the European Citizens' Initiative (ECI), to phoning and writing to national ministers, helped us get to where we are today.
How can we know if our campaign was successful? It's tough to say. What we know is that what we achieved is the sum of thousands and thousands of small actions which each of us took. Let's have a closer look into what we did together:
Our ECI, signed by over 1.3 million people, was the fastest to ever succeed. In one single Day of Action we collected more than 100,000 signatures at more than 6,000 events all over Europe. The ECI showed the scale of citizens' support for a ban on glyphosate and brought our movement official recognition: a meeting with the Commission, and a public hearing at the European Parliament, where we gave evidence against glyphosate. [5] The EP voted to support our demands – unfortunately, their vote was not binding.[6]
Whenever experts and decision makers came together in Brussels, we were there too, to show that EU citizens were committed to banning glyphosate. With placards and banners we illustrated the devastating consequences of glyphosate. Together with our partners we protested, gave voice to victims, offered alternatives and even filed legal complaints with state prosecutors across the EU.
We put a spotlight on the pesticide industry in a way they've never experienced before. We've challenged their fake science and put them under greater than ever scrutiny from our authorities. Monsanto's lobbyists got banned from the European Parliament for refusing to show up at a hearing about fabricated scientific evidence! [7]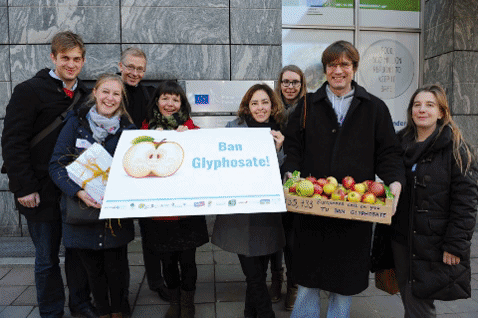 We hit Monsanto and the pesticides industry where it hurts. We showed that Europe's people can make a difference in how policies are made, even in the most obscure of EU's procedures. The 5-year re-approval of Glyphosate is not the win we had wanted, but it is a new beginning – for the future of all harmful pesticides in Europe, and for our fight for a better agriculture.
And the struggle is not over yet. We have been collecting more evidence and next week with our partners we will file another legal complaint with state prosecutors in Austria, Germany, France, Italy and Portugal. MEPs are deciding whether to call for a special committee in the European Parliament, and we are looking into ways to support independent scientific research to prove the carcinogenicity of glyphosate. Germany is in upheaval over the last-minute unsanctioned change of vote and we're watching closely if the chaos is our opportunity.
For our community, the fight for a pesticide free Europe is one we intend to win – whatever it takes. In the WeMove team we're committed to take this fight forward – and now we need your commitment that you will stay with us every step of the way, and your much needed support with a regular donation of a few euro each week. With the backing of our community and the financial security of being community-funded and ready to act when it's most needed, we can continue fighting against Monsanto and its number one weed killer, now and in the months and years to come. Please, can you chip in and help make this happen?
Thank you,
David (Brussels), Doina (Bucharest), Julia (Warsaw), Jörg (Lübeck), Olga (Bologna), Virginia (Madrid), and the rest of us at WeMove.EU
References:
[1] https://ec.europa.eu/food/plant/pesticides/glyphosate_en
[2] https://ec.europa.eu/food/plant/pesticides/glyphosate_en
[3] https://www.politico.eu/article/glyphosate-renewal-shakes-germany-france-italy/
[4] https://stopglyphosate.org/en/
[5] https://euobserver.com/science/139951
[6] http://www.europarl.europa.eu/news/en/press-room/20171020IPR86572/meps-demand-glyphosate-phase-out-with-full-ban-by-end-2022
[7] https://www.euractiv.com/section/agriculture-food/news/monsanto-lobbyists-barred-from-european-parliament/
WeMove.EU is a citizens' movement, campaigning for a better Europe; for a European Union committed to social and economic justice, environmental sustainability and citizen-led democracy. We are people from all walks of life, who call Europe our home whether we were born in Europe or elsewhere. To unsubscribe from WeMove.EU, please click here.
WeMove.EU is funded by donations from our community across Europe. Can you chip in with a few euros a month and help make sure we can move fast to win the campaigns that matter to all of us? Donate