19 May 2021 — Medact
Racism, mental health and pre-crime policing: the ethics of Vulnerability Support Hubs – our latest report, out today – exposes how a counter-terrorism police-led project blurs the boundaries between security and mental health care in disturbing and dangerous ways, through documents obtained in a series of long-running Freedom of Information requests.
Read the report, and join us at the launch event this evening at 7pm, to find out more.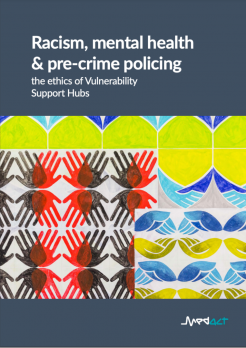 Counter Terrorism Policing did not want the public to scrutinise these secretive projects. But now, we can reveal the disturbing ethical issues these 'Vulnerability Support Hubs' raise and show that counter-terrorism policing's often spurious and highly racialised pre-crime security concerns are influencing medical treatment.
Specifically, we reveal that:
NHS mental health professionals are being encouraged to go beyond their health remit.
Individuals' right to exercise their agency to refuse 'deradicalisation' may be being coercively undermined.
The hubs erode confidentiality by facilitating police access to healthcare information.
The Guardian reported on the story today with the headline "Mental health tests in the presence of counter-terror units 'unethical', says charity". And you can catch me on Sky News, live from earlier this morning, talking about the dangers of the hubs.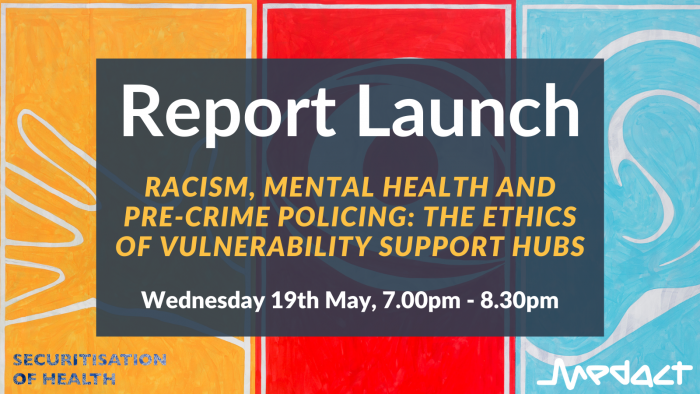 Join us tonight, 7pm to 8.30pm, to hear from myself, the two other co-authors and another expert in the field:
Dr Tarek Younis – Cultural and critical clinical psychologist and Lecturer in Psychology at Middlesex University
Dr Charlotte Heath Kelly – Reader in Politics and International Studies, University of Warwick
Vicki Nash – Head of Policy, Campaigns and Public Affairs at Mind
Register for the launch event, tonight at 7pm
I hope to see you there. If you have any questions, please feel free to email office@medact.org.
Warm wishes,
Hil Aked
Research and Policy Manager