On 48th Anniversary of the Military Coup, Archive Posts Never-Before-Seen Australian Intelligence Service Documents on Anti-Allende Covert Ops
CIA Requested Clandestine Australian Support after Allende Election; Australian Intel Service Opened Station in Santiago, Records Confirm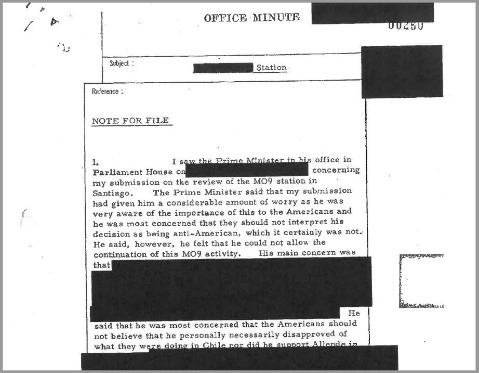 Washington, D.C., September 10, 2021 – At the behest of the CIA, the Australian Secret Intelligence Service (ASIS) established a "station" in Santiago in 1971 and conducted clandestine spy operations to directly support U.S. intervention in Chile, according to declassified Australian records made public for the first time by the National Security Archive on the 48th anniversary of the military coup in Chile. Released a half century after ASIS secretly initiated its covert action in Chile, the documentation sheds further light on the multinational effort to destabilize the Popular Unity government of Salvador Allende who was overthrown in a military coup on September 11, 1973.
"After 50 years, the hidden history of concerted, covert U.S. efforts, with other proxies, to destabilize the democratically elected Chilean government of Salvador Allende continues to unfold," said Peter Kornbluh, the Archive's Chile analyst who posted the documents.
The never-seen-before documentation includes detailed, top secret, memoranda of conversation between ASIS chief William Robertson and Labor Party Prime Minister E. Gough Whitlam who ordered the station closed down in 1973. The documents record Whitlam's concerns about offending the CIA with whom ASIS agents were collaborating.  "The Prime Minister said that the last thing he wanted to do was to take precipitate action that would embarrass the CIA," one memorandum of conversation recorded.  Whitlam "was most concerned that CIA should not interpret this decision as being an unfriendly gesture towards the U.S. in general or towards CIA in particular."
The ASIS documents were declassified in Australia pursuant to Freedom of Information legal petitions filed by Dr. Clinton Fernandes, a former Australian Army intelligence analyst and professor of international and political studies at the University of New South Wales in Canberra.
THE NATIONAL SECURITY ARCHIVE is an independent non-governmental research institute and library located at The George Washington University in Washington, D.C. The Archive collects and publishes declassified documents acquired through the Freedom of Information Act (FOIA). A tax-exempt public charity, the Archive receives no U.S. government funding; its budget is supported by publication royalties and donations from foundations and individuals.