11 April 2019 — RT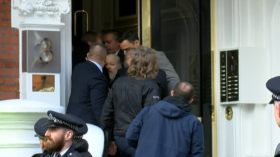 Video shows whistleblower and Wikileaks co-founder Julian Assange being carried out of the Ecuadorian embassy in London by force, before being shoved into a police vehicle.
In exclusive footage from RT's Ruptly video agency, a disheveled Assange complete with full white beard is seen being carried out of the building by several men holding him by the limbs.
The whistleblower had been living in the embassy for the last seven years protected by political asylum, which was dropped earlier in the day by Ecuador.