18 April 2019 — National Security Archive
Mueller Report Censorship Raises Question: What's the Government Hiding?
Documents Show It's an Art Not a Science – Vast Over-classification
National Security Archive Electronic Briefing Book No. 670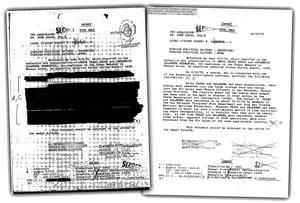 Washington D.C., April 18, 2019 – The impending release of the redacted Mueller report focuses new public attention on the systemic problem of over-classification and the routine overuse of exemptions to the Freedom of Information Act that are supposed to be reserved for protecting true secrets.
To provide background to the problem, the National Security Archive today is posting just a small selection from the 100's of "dubious secrets" it has published over the years in which U.S. government censors blacked out documents that had already been released in full or redacted entirely different parts of the same document at different times. The examples show how subjective the classification process is and how often agency declassifiers opt for the most sweeping rulings that wind up denying any reasonable access to U.S. government information.
---
THE NATIONAL SECURITY ARCHIVE is an independent non-governmental research institute and library located at The George Washington University in Washington, D.C. The Archive collects and publishes declassified documents acquired through the Freedom of Information Act (FOIA). A tax-exempt public charity, the Archive receives no U.S. government funding; its budget is supported by publication royalties and donations from foundations and individuals.