5 November 2019 — National Security Archive
Impeachment Inquiry Shows No Notes for June 28 Ukraine Phone Call
Related Suit Seeks Court Review of White House Failure to Document Heads of State Meetings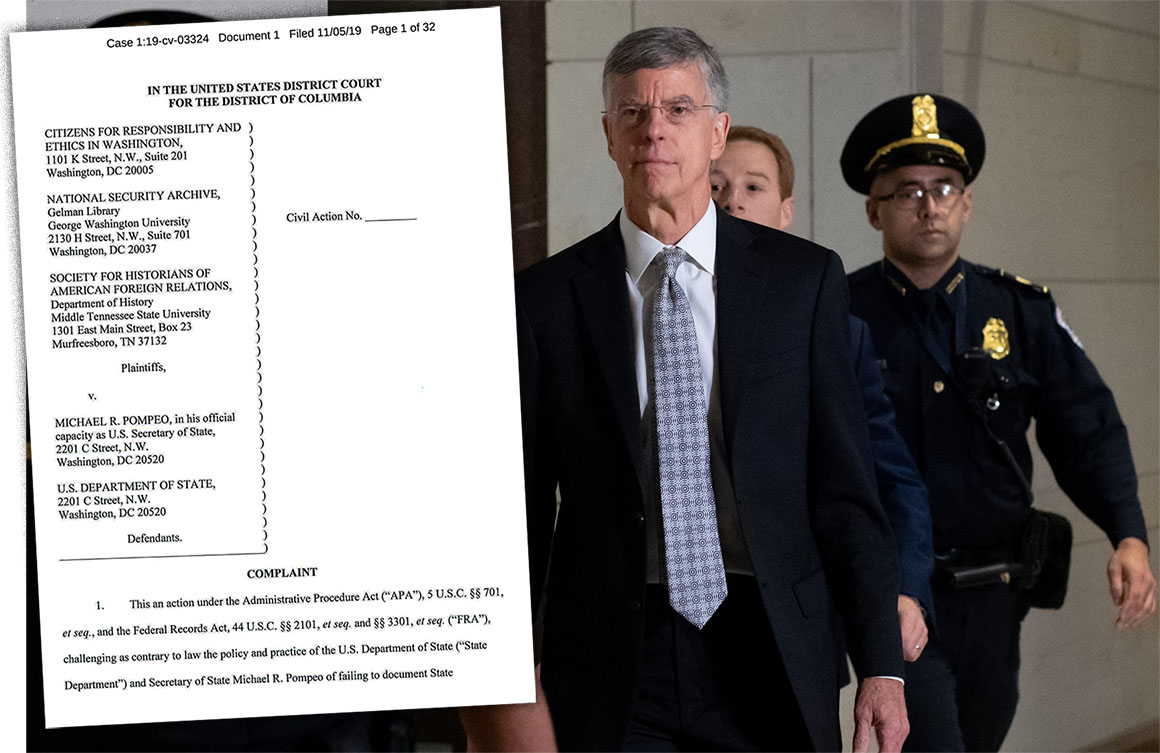 Washington D.C., November 5, 2019 – The National Security Archive, together with Citizens for Responsibility and Ethics in Washington (CREW) and the Society for Historians of American Foreign Relations (SHAFR), sued Secretary of State Mike Pompeo and the Department of State today for violating the Federal Records Act by failing to create and preserve essential State Department records (see the complaint). The legal team representing the plaintiffs in the case is led by Anne Weismann and Conor Shaw of CREW, and pro bono counsel George Clarke and Mireille Oldak of Baker McKenzie.
Evidence from the House's impeachment inquiry, including from Ambassador William Taylor, the chargé d'affaires for Ukraine under the Trump administration, and from former Ambassador to Ukraine Marie Yovanovitch, all speak to a pattern and practice of bypassing official record-keeping procedures at the State Department. In discussing a June 28 State-organized phone call with Ukrainian President Zelenskyy, Ambassador Taylor testified that, not only did the Ambassador to the European Union Gordon Sondland exclude most of the regular interagency participants from the call, but that "Ambassador Sondland said that he wanted to make sure no one was transcribing or monitoring as they added President Zelenskyy to the call." This is a direct violation of the State Department's obligation under the Federal Records Act to document agency policies, decisions, and essential transactions.
The FRA lawsuit comes on the heels of a related Presidential Records Act case that the Archive, CREW, and SHAFR filed in May 2019 to compel the White House to create and preserve records of the President's meetings with foreign leaders. The PRA suit was filed after news reports indicated that no such records existed for at least five meetings with Russian President Vladimir Putin, one meeting with North Korean leader Kim Jong Un, and a meeting with Saudi Arabian Prince Mohammad Bin Salman.
---
THE NATIONAL SECURITY ARCHIVE is an independent non-governmental research institute and library located at The George Washington University in Washington, D.C. The Archive collects and publishes declassified documents acquired through the Freedom of Information Act (FOIA). A tax-exempt public charity, the Archive receives no U.S. government funding; its budget is supported by publication royalties and donations from foundations and individuals.