Bread & Roses Award Winner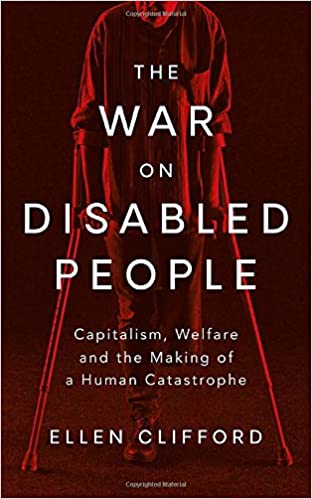 Big congratulations to Ellen Clifford for winning this year's Bread & Roses Award for Radical Publishing for her book The War on Disabled People: Capitalism, Welfare and the Making of a Human Catastrophe [Zed Books].
Ellen Clifford said: "It is an absolute honour to win the Bread and Roses Award for Radical Publishing, following in the footsteps of great thinkers I have admired and who have used writing to try to make the world a better place.
The Bread and Roses Award is the only award I have ever aspired to win because it validates exactly what I aspire to do – which is to use writing to explore ideas that can make the world a better place. I am grateful that the Award and that Radical Booksellers exist. I am also indebted to Zed Books for giving me the opportunity to write and for taking a chance on a first time author."
Ellen Clifford is a disabled activist who has worked within the disability sector for over twenty years. She currently serves on the National Steering Group for Disabled People Against Cuts. This is her first book.
Karen Shook, former Books Editor at Times Higher Education magazine, on behalf of the judges, said: "The War on Disabled People is a hugely revelatory account of the one-quarter of UK society whose struggle for justice is literally a matter of life and death, and of the determined, defiant disabled activists whose resistance holds important lessons for everyone on the Left."
She added that the shortlist comprised: "Powerful, wise and wonderfully informative books that not only shine unerring lights on cruelty, inequality and oppression, but also bear witness to humanity, resistance and hope."
The full shortlist was: The War on Disabled People (Zed/Bloomsbury), alongside Stella Dadzie's  A Kick in the Belly: Women, Slavery and Resistance (Verso), Marcus Gilroy-Ware's After the Fact? The Truth About Fake News (Repeater), Emma Griffin's Bread Winner: An Intimate History of the Victorian Economy (Yale,) Owen Hatherley's Red Metropolis: Socialism and the Government of London (Repeater), Dan Hicks' The Brutish Museums: The Benin Bronzes, Colonial Violence and Cultural Restitution   (Pluto) and Olivette Otele's African Europeans: An Untold History (Hurst).
The Transgender Issue: An Argument For Justice by Shon Faye
£20 >Click here to buy<

Abolishing the Police
£8 >Click here to buy<

Lost in Work : Escaping Capitalism by Amelia Horgan
£9.99 >Click here to buy<

Post Internet Far Right
£8  >Click here to buy<

Against White Feminism by Rafia Zakaria
£14.99 >Click here to buy<

Braiding Sweetgrass : Indigenous Wisdom, Scientific Knowledge and the Teachings of Plants
by Robin Wall Kimmerer
£9.99 >Click here to buy<

Postcolonial Astrology : A Radical Genealogy of the Planets by Alice Sparkly Kat
£14.99 >Click here to buy<

Revolting Prostitutes : The Fight for Sex Workers' Rights by Juno Mac and Molly Smith 
£9.99 >Click here to buy<

Paint Your Town Red : How Preston Took Back Control and Your Town Can Too
by Matthew Brown and Rhian E Jones
£10.99 >Click here to buy<


Black Resistance to British Policing by Adam Elliott-Cooper
£11.99 >Click here to buy<
The Dawn of Everything : A New History of Humanity by David Graeber,  and DavidWengrow

 [Allen Lane] £30.00

For generations, our remote ancestors have been cast as primitive and childlike – either free and equal, or thuggish and warlike. Civilization, we are told, could be achieved only by sacrificing those original freedoms or, alternatively, by taming our baser instincts. David Graeber and David Wengrow show how such theories first emerged in the eighteenth century as a reaction to indigenous critiques of European society, and why they are wrong. In doing so, they overturn our view of human history, including the origins of farming, property, cities, democracy, slavery and civilization itself.

'The Dawn of Everything is also the radical revision of everything, liberating us from the familiar stories about humanity's past that are too often deployed to impose limitations on how we imagine humanity's future' Rebecca Solnit

African Political Thought : An Intellectual History of the Quest for Freedom

by Stephen Chan [Hurst] £18.99

Stephen Chan's new book charts the long history of African political thought, from the years of North American slavery, through the development of modern African nationalism and the difficulties of governing new states, to Africa's political philosophy today, taking on the world as an equal.

He dwells at length on major figures from Marcus Garvey and Kwame Nkrumah's postcolonial generation to Biko, Mandela and Ellen Johnson Sirleaf. He shows their leadership to be inseparable from their ideas, and from those of literary giants including Fanon, W.E.B. Du Bois and Ngugi wa Thiong'o. This is no hagiography: Chan critically examines his thinkers and his fascinating account reveals a thoughtful continent that has made complex, significant contributions to the world's intellectual commons.
This is the Canon : Decolonise Your Bookshelves in 50 Books [Greenfinch] £16.99

These are the books you should read. This is the canon.

Joan Anim-Addo, Deirdre Osborne and Kadija Sesay have curated a decolonized reading list that celebrates the wide and diverse experiences of people from around the world, of all backgrounds and all races. It disrupts the all-too-often white-dominated 'required reading' collections that have become the accepted norm and highlights powerful voices and cultural perspectives that demand a place on our shelves.

The power of great fiction is that readers have the opportunity to discover new worlds and encounter other beliefs and opinions. This is the Canon offers a rich and multifaceted perspective on our past, present and future which deserves to be read by all bibliophiles – whether they are book club members or solitary readers, self-educators or teachers.

Time for Socialism : Dispatches from a World on Fire, 2016-2021by Thomas Piketty  [Yale] £16.99

Thomas Piketty has documented the rise and fall of Trump, the drama of Brexit, Emmanuel Macron's ascendance to the French presidency, the unfolding of a global pandemic, and much else besides, always from the perspective of his fight for a more equitable world.

This collection brings together those articles and is prefaced by an extended introductory essay, in which Piketty argues that the time has come to support an inclusive and expansive conception of socialism as a counterweight against the hypercapitalism that defines our current economic ideology. These essays offer a first draft of history from one of the world's leading economists and public figures, detailing the struggle against inequalities and tax evasion, in favor of a federalist Europe and a globalization more respectful of work and the environment. 
Orwell's Roses by Rebecca Solnit

 [Granta] £16.99

'Outside my work the thing I care most about is gardening' wrote George Orwell in 1940. Inspired by her encounter with the surviving roses that Orwell planted in his cottage in Hertfordshire, Rebecca Solnit explores how his involvement with plants, particularly flowers, illuminates his other commitments as a writer and antifascist, and the intertwined politics of nature and power.  And in her dialogue with the author, she makes fascinating forays into colonial legacies in the flower garden, discovers photographer Tina Modotti's roses, reveals Stalin's obsession with growing lemons in impossibly cold conditions, and exposes the brutal rose industry in Colombia.

A fresh reading of a towering figure of the 20th century which finds solace and solutions for the political and environmental challenges we face today, Orwell's Roses is a remarkable reflection on pleasure, beauty and joy as acts of resistance.

Our Work Is Everywhere : An Illustrated Oral History of Queer and Trans Resistance
by Syan Rose [Arsenal Pulp Press ] £15.99

Over the past ten years, we have witnessed the rise of queer and trans communities that have defied and challenged those who have historically opposed them. Through bold, symbolic imagery and surrealist, overlapping landscapes, queer illustrator and curator Syan Rose shines a light on the faces and voices of these diverse, amorphous, messy, real, and imagined queer and trans communities. In their own words, queer and trans organisers, artists, healers, comrades, and leaders speak honestly and authentically about their own experiences with power, love, pain, and magic to create a textured and nuanced portrait of queer and trans realities in America.

The many themes include Black femme mental health, Pacific Islander authorship, fat queer performance art, disability and health care practice, sex worker activism, and much more. Accompanying the narratives are Rose's startling and sinuous images that brings these leaders' words to visual life.

Full-colour throughout.
Intersectional Class Struggle : Theory and Practice by  Michael Beyea Reagan

 [AK Press] £14.00

This innovative study explores the relevance of class as a theoretical category in our world today, arguing that leading traditions of class analysis have missed major elements of what class is and how it operates. It combines intersectional theory and materialism to show that culture, economics, ideology, and consciousness are all factors that go into making "class" meaningful. It investigates how the concepts of racial capitalism and black feminist thought, when applied to class studies and popular movements, allow us to walk and chew gum at the same time—to recognize that our movements can be diverse and particularistic as well as have elements of the universal experience shared by all workers.

Work Without the Worker : Labour in the Age of Platform Capitalism

 [Verso] £10.99

We are told that the future of work will be increasingly automated. Algorithms, processing massive amounts of information at startling speed, will lead us to a new world of effortless labour and a post-work utopia of ever expanding leisure. But behind the gleaming surface stands millions of workers, often in the Global South, manually processing data for a pittance.

In this stimulating work that blends political economy, studies of contemporary work, and speculations on the future of capitalism, Phil Jones looks at what this often murky and hidden form of labour looks like, and what it says about the state of global capitalism.
Abolishing the Police, with Koshka Duff and contributors

Wednesday November 3 @ 8:00 pm

Join the editor and contributors of the essay collection "Abolishing the Police" for an exploration of anti-police theory and practice.

We're very pleased to host this event on behalf of Dog Section Press, the publishers of Abolishing the Police, one of Housmans' biggest selling titles of 2021 so far.

We'll be joined by Koshka Duff, the editor of Abolishing the Police, and various contributors, as they discuss why we might want to abolish the police, what abolishing them would involve, and how it might be achieved. Koshka and panellists will also explore the rich existing traditions of anti-police theory and practice.


PLEASE NOTE 8PM START TIME

Veteranhood: Rage and Hope in British Ex-Military Life with Joe Glenton in conversation with Matt Kennard

Wednesday November 10 @ 7:00 pm

The military veteran is claimed by all sides. Conservatives, liberals and socialists all want to speak about and for ex-servicemen, yet far-right demonstrations are dotted with berets and medals and ex-military men have become celebrities of the reactionary manosphere.

So who are Britain's ex-servicemen? What do they want? What are their politics? What are the issues which animate them? Are they just irredeemable fascists by dint of their service to Empire? Or is there a radical political potential waiting to be unlocked?

Former soldier Joe Glenton takes us on a guided tour through ex-forces life at the heart of a dead empire as he attempts to demystify military culture, rescue the veteran from his captors, and discover if a more optimistic, humanist mode of veteranhood can be recovered from the ruins.
Daring to Hope: My Life in the 1970s,

with Sheila Rowbotham

Wednesday November 17 @ 7:00 pm

Sheila Rowbotham who helped start the women's liberation movement in Britain, is known internationally as an historian of feminism and radical social movements. 

In this powerful memoir Sheila looks back at her life as a participant in the women's liberation movement, left politics and the creative radical culture of a decade in which freedom and equality seemed possible. She reveals the tremendous efforts that were made to transform attitudes and feelings, as well as daily life.

After addressing the first British Women's Liberation Conference at Ruskin College, Oxford in 1970, she went on to encourage night cleaners to unionise, to campaign for nurseries and abortion rights. She played an influential role in discussions of socialist feminist ideas and her books and journalism attracted an international readership.
THE FUSE BOOK CLUB

 

NOVEMBER
Paint Your Town Red: How Preston Took Back Control and How Your Town Can Too by Matthew Brown and Rhian E. Jones

DECEMBER

Social!

FEMINIST SCI FI BOOK CLUB

NOVEMBER

Gods of Jade and Shadow by Silvia Moreno-Garcia



DECEMBER
Station Eleven by Emily St John Mandel

JANUARY 

On A Sunbeam by Tillie Walden

 

HOUSMANS QUEER BOOK CLUB



NOVEMBER
Gender Euphoria edited by Laura Kate Dale