1 August 2020 — Medact
We kicked off July with the launch of our new report on the Prevent counter-extremism policy in healthcare, and there's been lots more activity since!
Across our groups, Bristol and Oxford had successful reboot online meetings after taking some time out in recent months, and Brighton are putting plans in place for theirs, while Sheffield have been talking with MPs about access to healthcare on the radio and our newest group in the East Midlands hosted their first meetings.
Our co-ordinator training session enabled 15 of our local group leaders to gain tips and skills for facilitating online meetings as well as problem-solving common issues that groups face together.
Some key opportunities to get involved this month:
Thank you for all that you do,
Becky and the Medact team
Campaign Updates
Peace & Security
We launched our new Medact report 'False Positives: the Prevent counter-extremism policy in healthcare' this month.
A well-attended launch event featured a great panel of expert speakers, including Medact's Research Manager and report author, Dr Hilary Aked. If you weren't able to make it, or wish to listen back or share, the recording of the launch is now available on YouTube, Spotify, iTunes.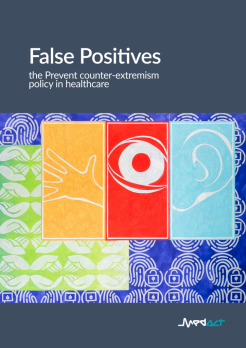 The report was covered in a Guardian exclusive, as well as articles in the Islington Gazette, Vice, the British Medical Journal, and the Independent. Medact member Dr Piyush Pushkar also wrote a blog for the BMAdiscussing the findings in the context of institutional racism in healthcare.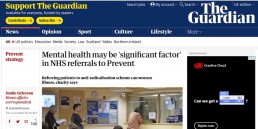 A new member group is coming together to organise follow-up work based on the report's findings. If you would like to find out more, you can register for the next group meeting on Monday 10th August, or email reemabuhayyeh@medact.org
We are also holding the next meeting of the Peace & Security Research Network cluster on Friday 7th August. Email reemabuhayyeh@medact.org for details of how to join.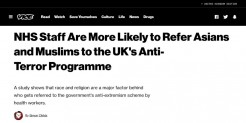 Access to Healthcare
On Thursday we joined one of the New Economics Foundation's "Weekly Economics Briefings" to talk about healthcare, COVID-19 and the hostile environment. The event featured an incredible range of speakers from Migrants Organise, Kanlungan, Notts Refugee Forum, and Doctors of the World, talking about the impact of precarious immigration status' and NHS charging on people during the crisis. If you missed it you can watch the event over on NEF's website.
In case you missed it: new blog series
"Exploring Migrants' Access to Healthcare" features a range of authors considering some of the impacts of the Hostile Environment that were not covered in our recent report, and looks at the impact of anti-migrant policy and border militarisation outside of the UK.
In part 1, Darran Martin, a paediatric intensive care and ED nurse, considers the psychological impacts of the Hostile Environment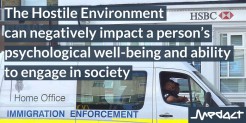 In part 2, Sally, Anna and Kieran – researchers in the Migrant Health Group at St George's, University of London ─ discuss the need for migrant camps to not be forgotten in the prioritisation of Covid-19 testing.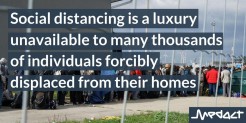 Part 3 features a conversation between Patients Not Passport campaigners and Open University Lecturer Dr Kathryn Medièn.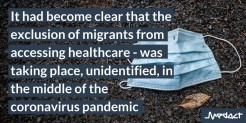 Economic Justice
We have been busy this month organising our new Economic Justice policy brief project (title pending!), aimed at the Government's Autumn spending review.
The research will attempt to critically appraise the impact of the government's COVID-19 policies on public health, identify gaps, and provide an alternative policy vision based on the principles of health and economic justice. If you would like to know more please contact our Economic Justice Campaigner at siddharthamehta@medact.org.
Also this month, Dr Clare Andrews wrote about her experience as a clinician during the coronavirus crisisand discusses how the social determinants of health, particularly socioeconomic inequality, have had a profound impact on her patients.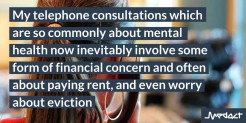 Climate & Environment
We had a really inspiring conversation on the need to mobilise the health community to fight for a transformative Green New Deal with public health at its core this month in our action call ─ featuring former Medact Interim Director Guppi Bola, former Detroit Public Health Director Dr Abdul El-Sayed and Psychologists for Social Change's Dr Stephanie Davis Le Brun.
A recording from the event is available to watch back on YouTube. Guppi Bola's 'Reimagining Public Health' and Dr Abdul El-Sayed's 'The Green New Deal doesn't just help climate. It's also a public health new deal' also make essential follow-up reading!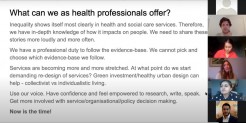 The Climate & Health Group recently met to discuss the '2030 vs. 2050' debate on emissions reductions targets. You can read a resource sheet from this discussion, and one from our previous month's discussion on race and the climate movement.
There will not be a Climate & Health Group meeting in August ─ but we will be resuming with our regular time slot on the first Tuesday of September (1st) at 7.30pm.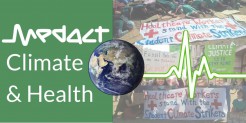 In the meantime, the Climate & Health Group Campaigns Team will be meeting again next Thursday 6th August at 6.30pm. Email Rob at robabrams@medact.org if you are interested in getting involved, or sign-up to receive future email updates from group.
Medact is also partnering with Friends of the Earth Scotland on their Just & Green Recovery for Scotland campaign. Please get in touch with Rob at robabrams@medact.org if you would like to discuss getting involved with this initiative.
Group Updates
Medact Sheffield have been doing fantastic work with their local MPs, and managed to get a slot on BBC Radio Sheffield alongside the Justice for Simba campaign to talk about the impact of NHS charging. Listen to a clip and share the tweet!
Medact Oxford have been running training and awareness raising sessions for doctors in Oxfordshire, making the most of restarting online teaching to tell more people about the Patients Not Passports campaign.
Movement Updates
We are standing in solidarity with those who are protesting NHS pay inequality ─ see Nurses United's plans for how to get involved.
Upcoming Events
Medact Research Network ─ Peace & Security cluster meeting – Friday, August 7 @ 6:30 pm – 8:00 pm
Making effective Freedom of Information Requests – Wednesday, August 12 @ 6:30 pm – 8:00 pm
Reflection
As we work to shape our new Economic Justice programme, we wanted to leave you with the following excerpt from a 2017 piece by Dean of Boston University's School of Public Health Sandro Galea on how economic justice and health justice relate:
"Economic justice has been defined as "a set of moral principles for building economic institutions, the ultimate goal of which is to create an opportunity for each person to create a sufficient material foundation upon which to have a dignified, productive, and creative life beyond economics." Therefore, an economic justice argument focuses on the need to ensure that everyone has access to the material resources that create opportunities, in order to live a life unencumbered by pressing economic concerns. Definitionally, this recalls the broader view of health expressed by the World Health Organization: "A state of complete physical, mental, and social well-being and not merely the absence of disease or infirmity." In both cases, the pursuit of health and economic justice aspires to something greater than simply physical well-being or financial solvency. The goal is, rather, to shape the fundamental conditions—i.e. higher incomes, or freedom from preventable disease—that allow people to live fulfilling, sustainable lives free from concerns about meeting basic needs, or about falling into poor health."