19 April 2021 — Medact
The Police, Crime, Sentencing and Courts Bill (PCSC) threatens to undermine our fundamental rights and our safety, and implicates health workers in the expansion of violent police powers. Medact and Docs Not Cops have joined the Kill The Bill Coalition to stand in solidarity with everyone targeted by the Bill and fight back against these harmful policies.
Join us on Monday 26th April for an urgent online briefing on the impacts of the PCSC Bill – find out what the Kill The Bill Coalition is building towards and what you can do to get involved.
Register Now – Urgent Briefing: Why We All Have a Duty to Kill The Bill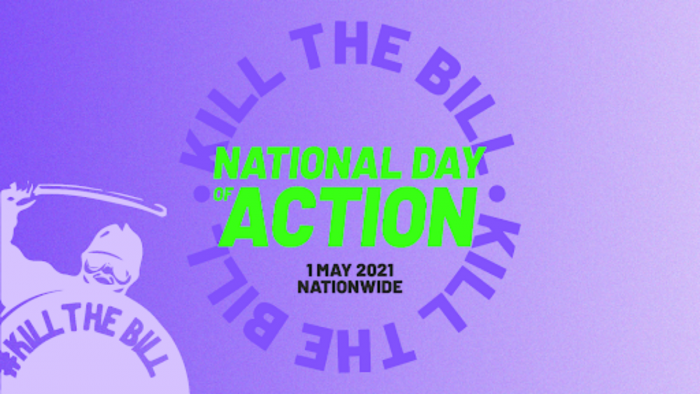 The Briefing will explore how the Bill:
Threatens the right to protest – limiting our ability to hold Government and other power holders to account
Increases police powers – including expanding Stop & Search – which already discriminate against marginalised communities
Directly attacks Gypsy, Roma and Traveller communities by criminalising their way of life
Undermines the relationship between health workers and their patients by lowering the threshold to breach consent and pass patient information to the Police
Expands a prison system that harms the health of people from criminalised communities
Uses the language of Public Health to justify handing the police a range of violent new powers
Together, we will hear from a range of speakers on these issues and discuss the many ways in which the health community can take part in the broad movement of action happening across the UK against the Bill: through joining the demonstrations, raising awareness about the Bill with our peers, writing about the impact it will have on public health or any other ways we can work in solidarity with everyone working to Kill the Bill.
On Wednesday 28th April we'll also be running a Kill The Bill Action Medic Training. We will learn how we can support protests taking place across the UK and discuss how we help keep ourselves and each other safe. The training is open to anyone, no previous experience or clinical training necessary. It will cover the principles of providing care at demonstrations, specific action first aid skills, holistic care including wellbeing, mental health, consent and privacy.
Register Now – Urgent Briefing: Why We All Have a Duty to Kill The Bill Share on Facebook Share on TwitterShare on Whatsapp
As a community who stand together to campaign for health equity it is vital that we take action to Kill The Bill. We must stand in solidarity with the communities who this harmful piece of legislation directly attacks, work in collaboration with all groups resisting this violence, and stand united in demanding nothing less than a complete rejection of the Bill.
In solidarity
Medact & Docs Not Cops